The spoon, fork, and knife wall art canvas is now available
in a 14 inch tall x 4.5 inch wide size.
this set comes with a little bling!
accented with a dusting of glitter and embedded clear gems!
Each utensil has a bit of glitter here and there
and a few clear gem accents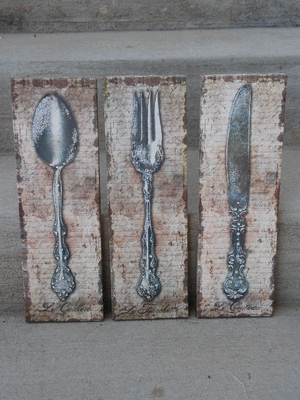 Three piece set, stretched canvas on wood frame
with attached hanger on the back.

The canvas wraps around the edges of the wood frame
for a finished, ready to display look.

or add your own frame.
this set has a great aged, script background.
Under each piece of silverware, in handwritten cursive style is its french translation ~
La Cuillere, La Fourchette, and Le Couteau.
~ This set has great details ~
****
Also available